Hi,  Thank you for visiting "The Amazing Noah"
We have built this site to document the journey of Noah's battle with Leukemia.  We have started this from day ZERO.  Literally the week we took him to the doctor and were then referred to the children's cancer center where we found out the horrifying news that our beautiful son Noah had B-Cell (ALL).  We have also created a YouTube channel for his videos.
Please subscribe to his channel and get as many of your friends to do so as well.  If we get enough followers on his YouTube channel we may be able to be compensated from YouTube.  This will be hugely helpful to cover expenses that insurance will not.  This will be a very long two-year + battle and that is "IF" everything goes well.  There will be follow-up visits for years to come after that.

Please subscribe and follow Noah's journey.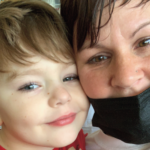 How can you not smile at this boy?p