Life has been so rough these past couple of years for our family but nothing can compare to the last year for me!
When Noah was diagnosed with B-Cell Leukemia, my life from that moment on changed! It has been a very rough year all around! I still get so emotional thinking back and remembering what Noah had to endure during his first year of treatment! How weak and sick he was…!
Noah has been Maintenance for almost 8 months now! This time last year, Noah was so weak and in the ER with Neutropenic Fever. Now, his body has gotten stronger and he feels good! He swims, runs, plays, rides his bike and now waterski's.
Noah still has a very long road ahead of him that will continue after his treatment. Right now…..he has 10 more months of treatment and it is still a big worry about germs/sickness while he is still taking daily chemo. Today he could be feeling great and tomorrow he could wake up to Neutropenic fever out of the blue and be in the hospital.
BUT….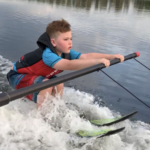 Thanks to Noah, each day I wake up with something to be grateful for and a positive mindset. He has taught me that! We try to live in the moment more no matter what it is we are doing. Watching him be a kid and play….just overfills my heart with happiness! Embracing life…I am learning this every day!
This is Noah almost to the date last year and this is Noah today! He is definitely embracing his life and nothing is getting in his way! 306 more days!